Business Travel Life is Donating 10% of December Sales to Dallas DogRRR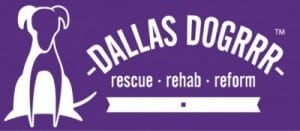 Business Travel Life is excited to announce we will be donating 10% of sales from our store in the month of December to the Dallas DogRRR. The Dallas DogRRR captured our hearts when we read this horrific article on the Bark Post about a mass dog grave and dumping ground located outside of Dallas. Our faith in humanity was both lost and restored while reading this article, thanks to the Founder of Dallas DogRRRR who was shown searching through the dumping ground, trying to find dogs that were still alive. Dallas DogRRR is 100% volunteer based, there are no employees on salary and no administrative fees. Every single cent that is donated goes directly to the care of the dogs they have rescued. In order to support the amazing organization, Business Travel Life is donating 10% of sales from our online store this month to the Dallas DogRRR. You can also buy items needed by the rescue by shopping their Dallas DogRRR Shopping List
 on Amazon.
The RRR part of the Dallas DogRRR name stands for Rescue, Rehab, and Reform. The rescue begins as soon as the dog is found. On occasion, the Dallas DogRRR will find a dog that is truly lost and can be happily reunited with their owner. Sadly, the majority of the rescues have been dumped like trash and are immediately grateful to be in the care of a loving human. Once the dog is taken in, the Dallas DogRRR volunteers immediately start preparing the pups for their forever home. T
he Dallas DogRRR works with fosters and local rescues to rehabilitate the dogs for their lives. Rehabilitation starts with a bath and a thorough veterinary exam (including  spay/neuter procedures, beginning flea and heartworm preventative, and updating all required vaccinations). Rehabilitation also includes some R&R for these dogs.  The last component of rehab is evaluation and training.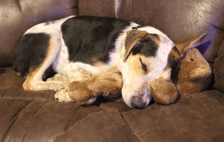 Rehabilitation also includes lots of  rest, relaxation & belly rubs, as shown above by Banksy. Banksy is available for adoption at Dallas DogRRR. Banksey is a beagle coonhound mix that is available for adoption.
Dallas DogRRR reform involves creating awareness and educating the public. If you are interested in adopting from the Dallas DogRRR please see visit their adoption page and see all the beautiful furbabies that are available. All dogs can be adopted for half price in the month of December. See detail here.
 Business Travel Life Providing nationwide nutrition and fitness concierge services, Business Travel Life seamlessly integrates a healthy lifestyle into corporate and business travel . We partner with our clients to provide nutrition plans and workouts that are achievable on the road. Our clients benefit from the customized level of service and ongoing support we provide. Check out our online store before your next trip to shop for healthy travel snacks, travel friendly workout tools, and accessories that make healthy travel easier.